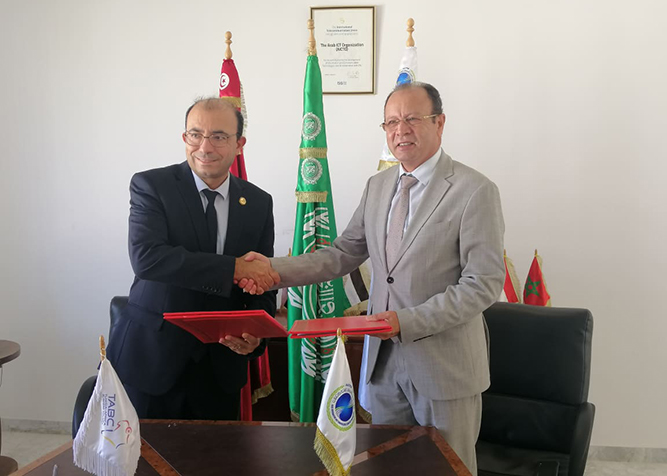 Within the framework of its will to enhance regional and international cooperation, the Arab ICT Organization, represented by its Director-General, HE. Eng. Mohamed Ben Amor signed a memorandum of understanding with the Tunisia-Africa Business Council represented by its Chairman, Mr. Anis Jaziri.
This memorandum aims to cooperate in the organization of regional and international events, especially for the success of the "Building Digital Libya" Summit, which will be organized during the period from 26 to 28 October 2021 at the Laico Hotel in Tunis – Republic of Tunisia.
It is worthy to mention that the "Building Digital Libya" Summit falls within the framework of promoting, developing, and rehabilitating the communications and information technologies sector in the State of Libya, and will be organized by the Arab ICT Organization under the high patronage of the League of Arab States and in collaboration with the General Authority for Communications and Informatics in the State of Libya and the Ministry of Communication Technologies in the Republic of Tunisia.
This summit will include, in addition to the main symposium, workshops, an exhibition, qualified training courses, and a space to conclude partnerships and agreements with major international companies working in the field of communication technologies.
AICTO will also work to include among the outcomes of this summit a strategic vision for rebuilding digital Libya.