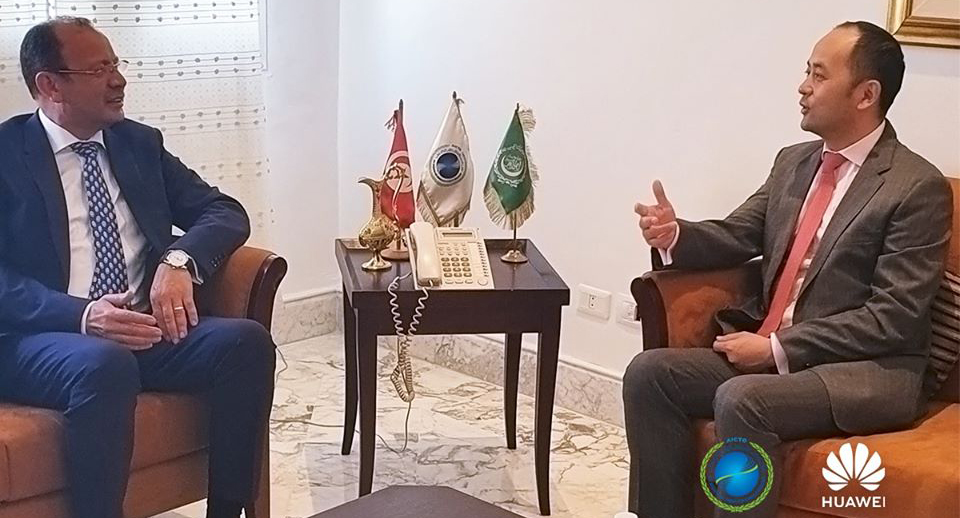 On Monday, the 16th of March 2020 – Huawei executive vice president for the North Africa region, Mr. Philippe Wang, met with HE/Eng. Mohamed Ben Amor, Director General of the Arab Organization for Information and Communication Technologies ( AICTO).
The two sides re-expressed their commitment to more popularize the ICT culture and make it accessible throughout the Arab region. This meeting also aims to strengthen cooperation between the Chinese giant and AICTO, through "Huawei ICT Academy" and "Huawei Seeds for the Future", two programs that will allow Huawei to train nearly 10,000 Tunisian talents and certify them within the next 5 years.
Mr. Wang assured that these partnership's conventions will help a better future for ICT in the Arab region: "Our essential objective being the building up of a connected world to help the member countries of AICTO to set up their national plans around the digital economic axes and smart society".
"Huawei is actively engaged with its Tunisian partners, through sharing its know-how with them and helping them to be internationalized in neighboring countries and around the world. 55 students have already gone to China to benefit from the advantages of the "Seeds for the Future" program, he added.
Huawei has also set up an ICT academy program, as part of a strategic partnership between the Chinese giant and public and private higher education universities. The main objective is to promote the integration of young talents into the job market, by offering them high-quality training and creating an ecosystem of talent in ICT.
For his part, HE/Eng. Mohamed Ben Amor, said that the promotion of young students and talents in ICT in Tunisia and the Arab region is one of the priorities of AICTO's strategies and action plans.
Credit photo & text (fr) Huawei