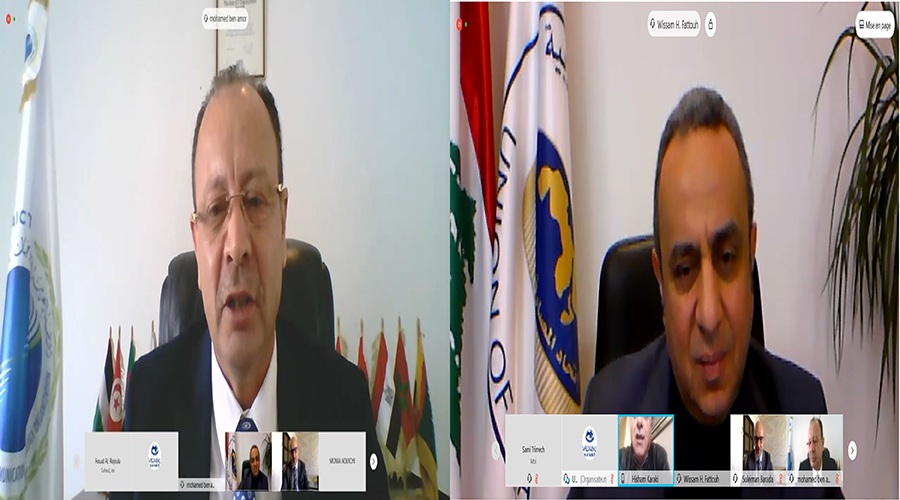 The Arab ICT Organization, in partnership with the Union of Arab Banks, held a virtual press conference on Thursday, February 11, 2021, for the launch of the second edition of the "Excellence Awards for the Best Arab Digital Financial Institutions 2020" (Innovation – Inclusiveness – Loyalty – Well-being).
During the work of this conference, HE. Eng. Mohamed ben Amor, Director General of the Arab ICT Organization, emphasized the importance of this award by highlighting the efforts of the Arab financial institutions (including the banking and postal sectors), in the setting up of digital strategies aiming to develop and deliver innovative digital services. This initiative aims to lead the way and contribute to the global efforts towards financial inclusion.
From his side, the Secretary-General of the Union of Arab Banks, Mr. Wissam Hassan Fattouh, explained the benefits that the financial and banking sectors acquire by adopting the latest communication and information technology technologies in order to develop this vital sector.
During this conference, were presented the goals of the award, its various categories and conditions and mechanisms of participation with the announcement of extending the deadlines for accepting candidatures to March 31, 2021.
At the end of this conference, the date and venue of the coronation ceremony for the winners were announced, and the Arab Republic of Egypt will host the awarding ceremony during the first half of 2021. (this date can be changed taking into account the evolution of the health status in relation to the Corona pandemic).
For further information about the Award please visit the website at www.adb-awards.org